Business Process Modeling (BPM) in Ardoq
Better documentation, more efficiently
Once you have entered your workflow data, Ardoq will automatically generate multiple visualizations, thus providing you instantly with the appropriate diagram for any reporting context. No need to draw any diagrams! Ardoq will do this for you and provide you with several views of your data, each with a different emphasis.
Start free now – No credit card needed.
Out of the box functionality includes:
More than mere flow diagrams
In Ardoq, the links in your flow diagrams are not merely lines on a page, but objects in their own right. You can highlight different types of links in your visualizations, assign ownership to each of these links and supplement with useful qualitative data to enrich the documentation.
Read more about our view on documentation and why we believe in a data first-approach.
Living documentation
Is your business process documentation static? Keep your documentation up-to-date by editing the workflow data in Ardoq. All your diagrams are automatically updated and can be exported for your next reporting cycle.
Business process modeling as a holistic enterprise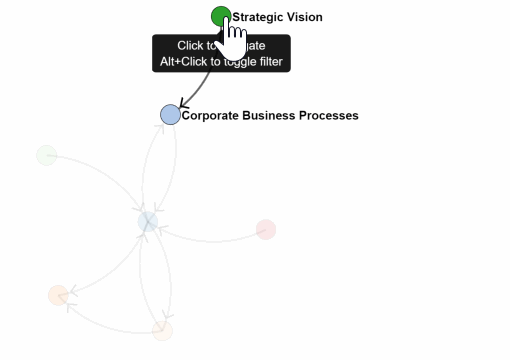 Bridge the gap between the IT-side and the business-side of the organisation by mapping business workflows, systems, applications and infrastructure in one common place. By highlighting the dependencies you will achieve greater transparency in the organization and thus be better poised for identifying your process optimization potential as well as minimize risk when implementing change.
Integrate with your process mining tools
Use our open API to import data from any source or integrate Ardoq with any process mining tool you might already be using to visualize your business processes in Ardoq. Our out of the box-features includes an Excel import plugin.